Welcome to the Great Wolford Village Website. If you have anything to contribute please contact the site administrator Charles Pearmain by clicking HERE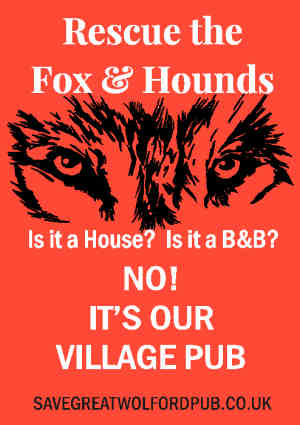 CLICK HERE TO VISIT THE NEW CAMPAIGN WEBSITE DEDICATED TO RESCUING OUR VILLAGE PUB!
---
JULY 25th 2018 – A planning application has been made by the owners of the Fox and Hounds, the much-loved village Pub at the heart of our community, to convert it into two houses because they claim it is not viable. If you would like to oppose this planninmg application PLEASE CLICK THE LINK BELOW to register your objections on Stratford District Council's planning Website
Great Wolford is a small conservation village at the southernmost tip of Warwickshire close to the Cotswold Area of Natural Beauty. There are approximately 200 permanent residents. The village houses are mainly of traditional brick and stone construction with some twentieth and twenty first century houses. There are a small number of farms in the village and several small businesses.
Just to the south of the village is an area of ancient woodland, Wolford Wood, a Site of Special Scientific Interest (SSSI). This ancient woodland covers 150 acres with only one footpath through it accessed across the fields from the village. It is home to deer including Roe, Fallow and Muntjac, badgers, foxes and squirrels as well as a host of wild flowers, fungi, moths and butterflies. The wood is managed in a traditional way clearing and coppicing some trees every year to bring light into the wood. Having trees of varying ages encourages the biodiversity found in the wood including 101 species of flowering plants and over 500 species of moths and butterflies. See the directory of village businesses for further details.