On Wednesday 13 May, two quarter peals were successfully rung on Great Wolford bells in memory of Major the Honourable Clement B O Freeman-Mitford DSO and Pte. John Aston. Both died on 13 May 1915 at Ypres. An aristocratic, professional soldier and a volunteer from humble origins suffered the same fate on the same day.
In the morning, the first quarter (St. Clements Bob Minor) for Major Clement Freeman-Mitford took 47 minutes and Pte. John Aston's quarter in the afternoon (Grandsire Doubles) ran out slightly quicker at 45 minutes. The band were pleased to have successfully completed the quarter peals. It's always possible to go wrong! We hope to pay the same compliment to the remaining six WW1 soldiers on the memorial at the appropriate time. The next quarter will be on (or around) Tuesday 30 June 2015 to be rung in memory of Gunner Ernest Hall.
The band pictured below consisted of (l to r); Keith Murphy (Great Wolford), Andrew Roberts (Fairford), Isobel Murphy (Great Wolford), Richard Lewis-Skeath (Moreton in Marsh), Chris Seers (Shipton under Wychwood), Clive Sparling (Stow on the Wold).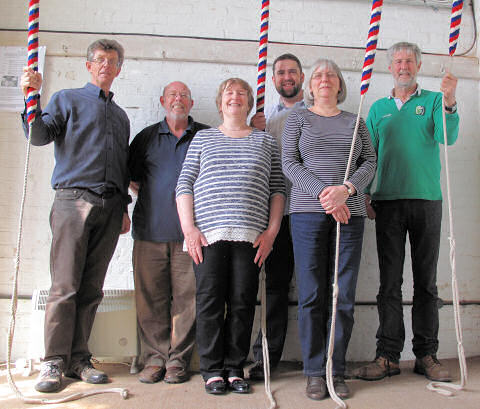 ---